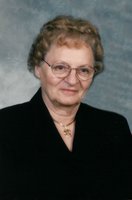 Adeline McVittie
McVITTIE, Adeline
May 10, 1929 – January 6, 2018
On Saturday, January 6, 2018, Adeline McVittie of Edmonton, Alberta, formerly of Viking went home to be with her Lord and Savior at the age of 88 years.
Adeline leaves to mourn her daughter Kelly McVittie-Ebel (Michael); grandchildren Lyle, Pam and Dawn McVittie and Kristina McVittie-Giebelhaus; daughter-in-law Faith (McVittie) Giebelhaus; siblings Helene Freed, Edward Nawrot, Lawrence (Kathleen) Nawrot, Nancy (Marvin) Ozubko; sisters-in-law Clara Nawrot and Amy Nawrot; along with numerous nieces, nephews, relatives and friends. Adeline was predeceased by her husband Robert McVittie; son Gerald McVitte and in infancy, John McVittie; parents; Frank and Rosalia Nawrot; siblings Mitchell (Leola), John, Walter and William Nawrot; brother-in-law Christopher Freed.
A Funeral Service will be held on Thursday, January 11, 2018 at 11:00 a.m. at the Viking United Church with Reverend Scott Reynolds and Pastor Ken Stumph officiating. Interment to follow in the Viking Cemetery. Memorial donations may be made to the Canadian Diabetes Assn – Alberta Branch.