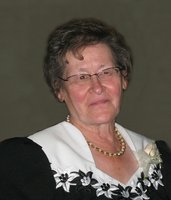 Annie (Ann) Strap (nee Semeniuk)
STRAP, Annie Karolka (nee Semeniuk)
January 1, 1942 – February 3, 2018
It is with great sorrow and love that the family of Ann announces her sudden passing on February 3, 2018, at the age of 76 years.
Forever dearly missed by her children: Elizabeth (Vern Bogdanski), Alec (Darlene), Arlene (Brian McKenzie), Darlene (Greg Osinchuk), Bernadine (Darwin Jones) and Kenneth (Colette).
Mom was blessed with a growing family of grandchildren and great-grandchildren.
She will be lovingly remembered by her sister Olga, brother Joe (June) and brother-in-law Norm; along with many nieces, nephews, relatives and friends.
She was predeceased by her husband Alex, parents John and Mary Semeniuk, sister Liz, brother-in-law Jake, nephew Darryl and son-in-law Terry.
A Funeral Service will be held on Friday, February 16, 2018 at 10:30 a.m. at Autumn Rose Funeral Home in Vegreville with Pastor Kevin Williams officiating. Interment to follow in St. Peter's Cemetery of New Buchach with Very Rev. Don Bodnar officiating.
In lieu of flowers, donations may be made to the "Heart & Stroke Foundation of Alberta", "Stars" or a charity of one's choice.