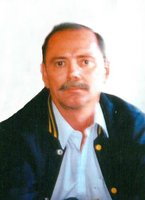 Rudolph Joseph Chmilar
CHMILAR, Rudolph (Rudy)
January 17, 1946 – January 13, 2019
We are saddened to announce Rudy's passing on Sunday, January 13, 2019, with his family and a friend by his side.
Rudy grew up on a farm near Mundare and enjoyed life to the fullest until 2003 when his mother passed away, from there he moved to the Beaverhill Lodge in Lamont.
Rudy is survived by numerous relatives and friends. Rudy was predeceased by his mother Carrie Chmilar and his father John Chmilar; brother Jackie Chmilar; two sisters Judy Chmilar and Beverly Zadimersky.
At Rudy's request, cremation has taken place followed by inurnment in St. James Russo-Greek Orthodox Church Cemetery - Mundare. Memorial donations may be made to the "St. James Russo-Greek Orthodox Church - Mundare" or to the charity of one's choice.