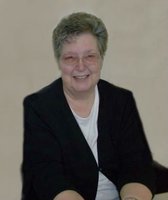 Doris Emelie Bodnarek
BODNAREK, Doris
April 12, 1940 – March 7, 2019
On Thursday, March 7, 2019, Doris Bodnarek of Lamont, Alberta passed away at the age of 78 years.
Doris is survived by her loving family, six children: Jane Esler, Sheila (Chris) Lupul, Sharyn (Nick) Danyluk, Stacey Bodnarek, Barry (Jean) Bodnarek and Ryan (Sara) Bodnarek; fifteen grandchildren Michelle (Curtis), Tamara (Sheldon), Taralyn (Kody), Danielle (Chris), Kaitlyn (Coltin), Dawson, Madalynne, Dorian, Olivia, Trent, Kienna, Kaige, Courtney, Raevon and Dante; three great grandchildren Barrett, Lukas and Mila; siblings Merle (Lorraine) Berry, Carolyn Perepalkin, Kendall (LoriAnn) Berry; sister in law Marjorie (Roy) Hnidan. Doris was predeceased by her husband Robert; son Roger; parents Bert and Stella Berry; parents in law John and Dorothy Bodnarek.
A Celebration of Life for Doris will be held on Monday, March 11, 2019 at 2:00 p.m. at Autumn Rose Funeral Home in Vegreville with Pastor Jeremy Dekker officiating. Memorial donations may be made to the Lamont Health Care Centre.