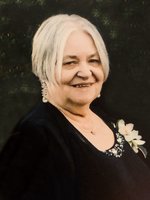 Alexandra Marie Diachuk
DIACHUK, Alexandra Marie
February 27, 1947 – September 8, 2019
On Sunday, September 8, 2019, Alexandra Marie Diachuk of Two Hills, Alberta passed away at the age of 72 years.
Alexandra is survived by her loving family, her husband of 53 years, John; daughters Danalee (Lennard) Wispinski and their family Josh (Halie) along with their daughter Adalyn: and Shelby: Shelly (Steven) Miller and their family Courtney (Brett) along with their children Axton and Riverlyn: and Colby; also numerous relatives and friends. Alexandra was predeceased by her parents Paul and Tillie Cymbaliuk; two great-grandchildren.
At Alexandra's request, no service will be held. Cremation has taken place. Memorial donations may be made to "Haying in the 30's - c/o Box 35, Mallaig, AB.,T0A 2K0."
The family would like to thank the doctors and staff at the Two Hills Health Care Centre for their compassionate care.