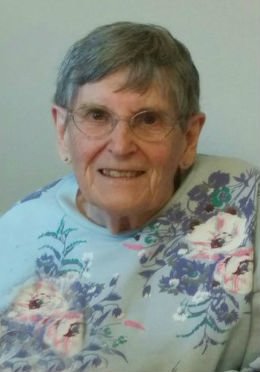 Obituary of Nancy Jendruck
JENDRUCK, Nancy Anastazia
February 19, 1930 – February 15, 2018
On Thursday, February 15, 2018 Nancy Anastazia Jendruck of Vegreville, Alberta left her family on Earth to join her family in Heaven. Nancy will be sadly missed by all of her family and forever remembered by her children, grandchildren and her great grandchildren. She is survived by her daughters Linda (Larry Boychuk), Audrey (Glen Sustrik) and Lorraine (Ted Dowhaniuk); her grandchildren Ian Sustrik (Amelia), Ryan Sustrik (Janet), Desiray Chimko (Jonathan), Sherry Dubuc (Jordan) and Laureta Boychuk; her great grandchildren Mason and Katelyn, Parker, Brooklyn and Addison, Kenji and Jude; two sisters Rose and Helen. She was predeceased by her husband Bernard in 2010, three brother, six sisters and her parents.
Nancy loved and cherished all of her family. She had many talents: cook, baker, barber, cleaner, painter, sewer, furniture refinisher, wine maker, gardener, canning of fruit and vegetables, accountant, fishing, raising three children, looking after the next door neighbour's children, operating farm equipment, and generally keeping the farm in order and running. She was also a talented quilter and made quilts for all her children and grandchildren. When she was no longer able to plant and care for a garden, you would find her in the garden supervising. No one could plant a garden as well as she could.
Nancy's favourite past time was playing cards right to the end. She was very competitive and liked to win.
A Funeral Service was held on Friday, February 23, 2018 at Autumn Rose Funeral Home in Vegreville with Pastor Darryl Crocker officiating. Interment followed in Riverside Cemetery.
Donations in her memory may be made to the "Heart and Stroke Foundation of Alberta" or to the "Lung Association of Alberta."